"If Tagore had done nothing else, what he did at Santiniketan and Sriniketan would be sufficient to rank him as one of India's greatest nation-builders." – Krishna Kripalani in Rabindranath Tagore: A Biography >>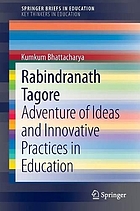 Rabindranath Tagore: adventure of ideas and innovative practices in education by Prof. Kumkum Bhattacharya (Springer, 2014) | Publication details and libraries on Worldcat.org >>
Describes the evolution of Tagore's ideas stemming from his personal experience of schooling
Elucidates the emergence of a university that would offer the best of the east and the west as well as Visva-Bharati in contemporary times
Explains Tagore's aim to extend education for social rejuvenation, uplift and reconstruction of rural societies and rural life
About this book

This new addition to Springer's series on Key Thinkers in World Education tracks the intellectual and philosophical journey of a trail-blazing innovator whose ideas have fired the imaginations of progressive educationalists for almost a century. The volume's in-depth analysis of the educational philosophy of Bengali polymath Rabindranath Tagore offers an unrivalled focus on his highly influential views.

Tagore—poet, internationalist, humanist, and the first non-European to win the Nobel Prize for literature—lived on the cusp of change between two momentous centuries in world civilization and foresaw the dissolution of colonialism and the globalization of culture. His ideas on education placed the creative individual at the centre of the quest for knowledge. Eschewing the artificial distinctions between elementary and higher learning, he advocated the importance of sowing the seed of humanism as early as possible, and fostering the individual's enjoyment of education as well as their courage to challenge conventions. In doing so, he anticipated the modern concern with critical thinking at the same time as he was encouraging independence of thought and action as a counter to colonial oppression and condescension. Concise yet thorough, this volume on one of the most original thinkers of the last century covers every aspect of Tagore's highly original educational philosophy.
Source: Rabindranath Tagore – Adventure of Ideas and Innovative | Kumkum Bhattacharya | Springer
Address: http://www.springer.com/gp/book/9783319008363
Date Visited: Fri Mar 17 2017 10:02:58 GMT+0100 (CET)
Sriniketan

The Institute of Rural Reconstruction was founded in 1922 at Surul at a distance of about three kilometres from Santiniketan. It was formally inaugurated on February 6, 1922 with Leonard Elmhirst as its first Director. Thus the second but contiguous campus of Visva-Bharati came to be located in 1923 at a site which assumed the name of Sriniketan. The chief object was to help villagers and people to solve their own problems instead of a solution being imposed on them from outside.

In consonance with the ideas about reconstruction of village life, a new type of school meant mainly for the children of neighbouring villages who would eventually bring the offering of their acquired knowledge for the welfare of the village community was also conceived. This school, Siksha-Satra, was started in Santiniketan in 1924 but was shifted to Sriniketan in 1927. The Lok-Siksha Samsad, an organization for the propagation of non-formal education amongst those who had no access to usual educational opportunities, was started in 1936. Siksha-Charcha for training village school teachers followed next year.
Source: Sriniketan
Address: https://www.visvabharati.ac.in/Sriniketan.html
Date Visited: 17 November 2020
[Bold typeface added above for emphasis]
More publications by Prof. Kumkum Bhattacharya
JOURNALS:
• "Relevance of Village Studies: History and Reality" published in The Visva-Bharati Quarterly, Nov. 1998.
• "Growing up in a Santal Village" published in the Journal of Comparative Cultures, No. 4, 1999 University of Sapporo, Japan.
• "Experience of marginality: the Santals" (joint) published in the Journal of the Anthropological Survey of India, Vol. 51, No., 1 March 2003.
• "Leisure among the tribes" published in Journal of Tribal Studies, New Delhi, Vol.1, 2003.
• "Tribes – State of Mind?" (joint) published in the Journal of Indian Anthropological Society, Vol 38, 2003.
• 2004 "Dr. Surajit Chandra Sinha: A Tribute" (joint) in Indian Social Science Review, Vol. 6 No. 1 (January-June) 135-149.
• 2010 "Sustainable Development and Spirituality" in Sustainability Tomorrow, Vol 5, Issue 1; January-March 2010, CII-ITC Centre of Excellence for Sustainable Development, New Delhi.
• 2010; "Sustainable Development and Spirituality" in Journal of Social Work & Social Development, Vol.1 No.1; June 2010, Department of Social Work, Visva-Bharati.
• 2010 Invited to write the entry on Rabindranath Tagore for the ACPI Encyclopedia of Philosophy in two volumes edited by Johnson J. Puthenpurackal, Bangalore, Asian Trading Corporation.
• 2011 "Jivan Devata: Quest for Interpretations" in Journal of Indian Council of Philosophical Research, Special Issue on Rabindranath Tagore, Volume XXVIII, Number 1, 155-164, January-March 2011.
BOOKs:
• Santals: entering the free stream (vernacular) with Sona Murmu, Boro Baski and Gokul Hansda, 2001, Eastern Zonal Cultural Centre, Kolkata, India.
• Conditioning and empowerment of women: a multidimensional approach edited with Asha Mukherjee, 2003, Gyan Publishing House, New Delhi.
• Celebrating Freedom: the Santal way of life, edited by Boro Baski and Kumkum Bhattacharya, Ghosaldanga Adibasi Seva Sangha.
Source: Kumkum Bhattacharya
Address: http://www.visva-bharati.ac.in/Faculty/faculties/sriniketan/siksha_vibhaga/social%20work/kumkum_bhattacharya.htm
Date Visited: Sun Mar 12 2017 11:54:20 GMT+0100 (CET)
Find publications on these issues by reputed authors including Open Access (free download): Worldcat.org >>
Related posts