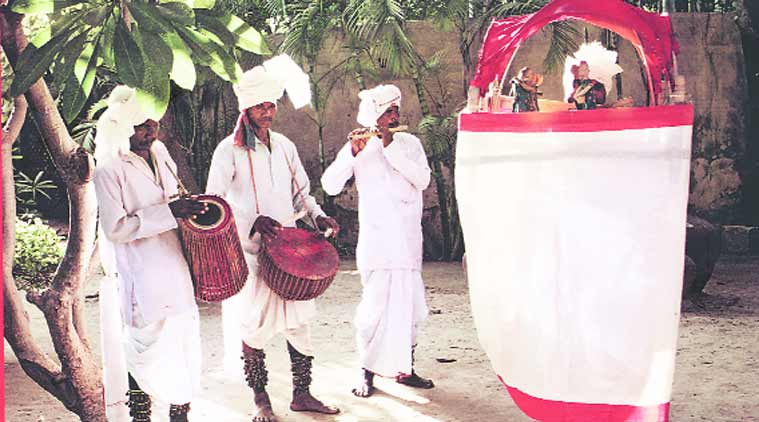 Sacred Record […] Comprising rare photographs of music and dance and daily activities of the Santals, the largest tribe in India spread across West Bengal, Bihar, Odisha, Jharkhand and Assam, the exhibition also showcases films, songs (including a recording from 1914), a variety of instruments and other research and documentation material collected over various periods by a variety of India photographers and documentarians. The exhibition, according to former Crafts Museum Chairperson Ruchira Ghose, "is an initiative to put together an important tangible and intangible heritage". […]

The exhibition also has photographs taken in Kamarbaudi, a village in Chhattisgarh by photographer Deben Bhattacharya, which show the Santals doing their daily chores of washing clothes, playing musical instruments, and dancing

"Musical instruments are sacred to Santal traditions and most of them are gradually disappearing. While classical music has evolved, it has also retained its core. But in Santal music traditions, the foundations need to be documented. That will allow the continuation of the tradition," says musicologist Jayasri Bose. There is a primitive nostalgia associated with their music, she says, because of their specific musical elements such as intonation patterns and rhythmic frames, one that was key in influencing music created by noble laureate Rabindranath Tagore and flute legend Pannalal Ghosh.

The exhibition also has photographs taken in Kamarbaudi, a village in Chhattisgarh by photographer Deben Bhattacharya, which show the Santals doing their daily chores of washing clothes, playing musical instruments, and dancing to the rhythm of tamaks. The collection also showcases Chadar Badar puppetry which is famous among the Santals of Bihar and West Bengal. A complete set of Chadar Badar, comprising 11-17 wooden puppets, is also placed in one part of the gallery that also showcases photographer Ravi Kant Dwivedi's documentation of the rare practise of Santal puppetry.

The exhibition is at National Museum, Janpath till May 17.
Source: Sacred Record by Suanshu Khurana, Indian Express, New Delhi, April 26, 2015
Address: https://indianexpress.com/article/entertainment/sacred-record/
Date Visited: 19 February 2021
Documenting the rich and distinct traditions of the Santal tribe, an ongoing exhibition at the National Museum here, shows these musical traditions and their expression in a changing landscape.

National Museum, Crafts Museum, Museum Rietberg (Zurich) and the Indira Gandhi Rashtriya Manav Sanghralaya (Bhopal) have collaborated for the show "Cadence and Counterpoint: Documenting Santal Musical Traditions."

The Santhals comprise the single largest tribal community in India. Although spread across several states in eastern part of the country, Santhals seem to unify in a distinct geography and culture.

The central narrative of the exhibition, besides showcasing this culture, is also to draw attention to the dilapidated state of the Santal culture which is on the wane.

"Many santhal instruments are becoming rare if not extinct and are being replaced today by officially sponsored mainstream instruments like harmonium, tabla and synthesizer," says Jayshree [Jayasri] Banerjee, a professional sitar player and musicologist.

Charting out the quintessential traits of the tribal music, Banerjee says, "Santhal music has a distinct intonation pattern, resonate structure and metrical note as well as autonomous aesthetics."

However, she says, "Unthinking substitution of santhal musical instruments by other instruments often leads to start musical incompatibility."

Banerjee has also worked on Adivasi music and musical instruments, and undertaken extensive fieldwork, documentation and advocacy of endangered musical genres.

The exhibition documents the journey of the tribe in a series of photographs, from 1950s till 2014, by several photographers including Banerjee, complemented with a plethora of illustrations and stories associated with the tribe.

Curated by Ruchira Ghose, Mushtak Khan, Krittika Narula, Marie-Eve Celio-Scheurer and Johanne Beltz, the show also displays a massive collection 92 string instruments out of which 44 are banams.
Source: A showcase of music, tribal tradition of Santhals, Press Trust of India, New Delhi, April 16, 2015
Address: https://www.business-standard.com/article/pti-stories/a-showcase-of-music-tribal-tradition-of-santhals-115041600245_1.html
Date Visited: 19 February 2021
Learn more
This article examines the impact of public presentations of Adivasi (in this case Santal) music and dance upon the distinctive traits of such traditions. Public presentation here refers to the presentation of the music and dance traditions of the Adivasi communities outside their everyday lives and natural performance contexts; that is, outside the context of their parav (festivals), rites and rituals.
***
Chador Badoni of Jharkhand (Santal Pargana)

The last few practitioners of Chador Badoni, a form of puppetry, and Jadu Patiya, a form of painting and storytelling, say their art forms may soon be lost.

In the online age when people are looking for more avenues of entertainment, when the internet and Googling have become the easiest way to knowledge and entertainment, two traditional art forms of the Santhal Pargana are in need of a revival.

Chador Badoni, a form of puppetry, and Jadu Patiya, a form of painting, are now limited to some rural pockets in Dumka and practiced by less than a dozen artists in the entire district, and may soon be lost to history. […]

From time immemorial, Chador Badoni and Jadu Patiya had a strong presence in Santhal villages. Both the forms were also used by freedom fighters to reach out to people to induce patriotism and for entertainment as well.

"Chador Badoni, which means small wooden idol, is a kind of puppet show. In this we make small wooden puppets, of both male and female figures, doing various activities, as per the need of our story and put it on a base for the show," 50-year-old Babudhan Murmu of Badi Tola of Naoasar village of Hathiapathar panchayat in Masalia block of Dumka told VillageSquare.in. […]
Source: "Santhal Pargana's indigenous art forms are on the verge of extinction" by Channdosree, 10 June 2017
URL: https://scroll.in/article/839754/santhal-parganas-indigenous-art-forms-are-on-the-verge-of-extinction
Date visited: 20 February 2021
For a list of websites included in a single search, click here. To search Indian periodicals, magazines, web portals and other sources safely, click here. To find an Indian PhD thesis on a particular tribal community, region and related issues, click here >>
Related posts
Details

Tips for using interactive maps

toggle to normal view (from reader view) should the interactive map not be displayed by your tablet, smartphone or pc browser
for details and hyperlinks click on the rectangular button (left on the map's header)
scroll and click on one of the markers for information of special interest
explore India's tribal cultural heritage with the help of another interactive map >>