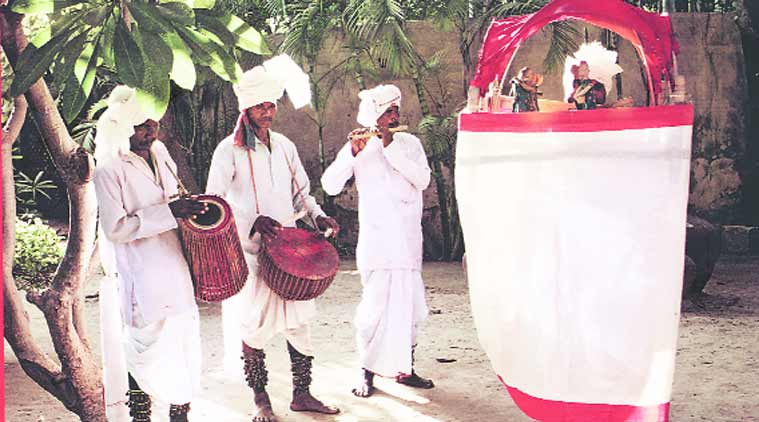 The Santals are known for their rich seren-enec, or song dance traditions. Music, dance, song and poetry are integral to Santal culture, intimately related to the seasons, festivals and rites of passage. It is said that amongst the Santals there is no woman who cannot dance or sing and no man who does not beat the drum or play the flute. In intonation pattern, rhythmic structure and metric frame, as well as in underlying aesthetic principles, Santal music displays very distinctive musical elements. The exhibition documents aspects of the tangible and intangible heritage of Santal music over time, including the remarkable sculpting skills embodied in the musical instruments of the tradition. […]

Musical knowledge is transmitted through a collective oral-aural, participative method, in which memory and tradition are the basic principles. Music skills are acquired by listening and repeating, by assimilating formulary materials, and by participation in a kind of communal retrospection. […]

The Santal are best known for their rich traditions of dance and music, especially the latter, which has influenced mainstream music in India. Their very distinct culture has attracted researchers, scholars, travellers and explorers into their midst, who have brought back Santal stories and objects.
Source: courtesy Dr. Ruchira Ghose (Co-Curator, New Delhi, 21 January 2016); for photo and detailed credits, please check the multimedia production available at Google Arts and Culture here >>
[Bold typeface added above for emphasis]
Tip: view the actual slideshow, watch a video on Santal puppetry, listen to a rare 1914 Santali recording and read the full story
Find publications on these issues by reputed authors including Open Access (free download): Worldcat.org >>
Related posts
Details

Tips for using interactive maps

toggle to normal view (from reader view) should the interactive map not be displayed by your tablet, smartphone or pc browser
for details and hyperlinks click on the rectangular button (left on the map's header)
scroll and click on one of the markers for information of special interest
explore India's tribal cultural heritage with the help of another interactive map >>