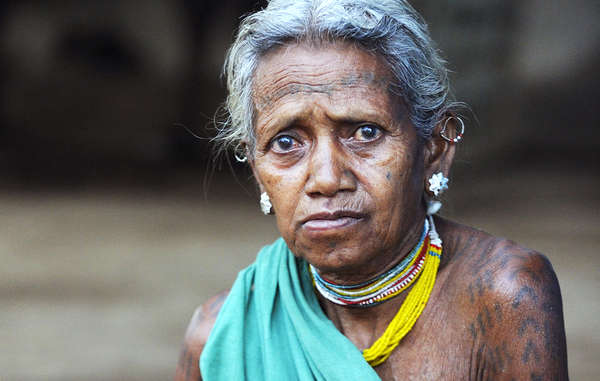 3. The Baiga have restored over 600 acres of forest around just one village

In the village of Dhaba in central India, Baiga tribal villagers became concerned that the local forest department were cutting down too many trees, supposedly to stop the spread of a pest. They protested and physically intervened, placing themselves between the forest officials and the trees.

Their protest succeeded, and now several tree species like the char, mahuli, and bamboo have regenerated around the village. The Baiga planted many of the trees themselves.
Source: Earth Day: Eight amazing facts that prove tribal people are the best conservationists – Survival International
Address: https://www.survivalinternational.org/news/11667
Date Visited: 17 March 2022
From being tiger worshippers to guardians of the wildlife, the Baiga tribe of Madhya Pradesh are playing a vital role in tiger conservation by helping forest officials in providing protection to the big cats and other wild animals living in the Kanha National Park.

Members of the Baiga tribe, a semi-nomadic tribe of central India that is reliant on the forest, had been living in 28 villages within the Kanha National Park until 1968, after which they were relocated. […]
Source: "Tribals Join in Tiger Conservation in Kanha National Park", Outlook Magazine, 19 June 2016
Address: http://www.outlookindia.com/newswire/story/tribals-join-in-tiger-conservation-in-kanha-national-park/943927
Date Visited: Mon Apr 24 2017 15:59:40 GMT+0200 (CEST)
"Tribals are subject to oppression and cruelty even after independence and still picked up by the investigating officers to cover up shoddy investigations." – D.Y. Chandrachud (Chief Justice of India since 9 November 2022) quoted in "Members of De-Notified Tribes Picked Up to Cover Up Shoddy Investigations" | Learn more >>
India's Forest Rights Act recognizes tribal communities' rights to remain on their land and harvest its resources, even when it's turned into a conservation zone. Yet these rights are continually violated, and many tribespeople are unaware they even exist.

But there is hope. Survival is working with partners on the ground to ensure India's tribal people are informed of their rights. We are campaigning to prevent further evictions from tiger reserves and are supporting those seeking redress for past injustices.
Source: Tiger Reserves, India, Background Briefing, Survival International
Address: https://www.survivalinternational.org/about/tigers
Date Visited: 17 March 2022
In the last five years, there have been two deaths due to tiger attacks. Kanha Tiger Reserve, located in the Maikal ranges of the Satpuras is spread over Mandla and Balaghat districts of MP. According to National Tiger Conservation Authority (NTCA) website, this Kanha Tiger Reserve with an area of 2,074 sq km — 940 sq km of it being the national park and 1,134 sq km being the buffer zone.
Source: MP: 'Terrorised' by tiger, tribals near Kanha back on tantric ritual, Hindustani Times, 26 June 2016
Address: https://www.hindustantimes.com/bhopal/mp-terrorised-by-tiger-tribals-near-kanha-back-on-tantric-ritual/story-EX4mPWRhqj8jYVoNZfVKvM.html
Date Visited: 17 March 2022
Find up-to-date information provided by, for and about Indian authors, researchers, officials, and educators | More search options >>
Search tips: in the search field seen below, combine the name of any particular state, language or region with that of any tribal (Adivasi) community; add keywords of special interest (health, nutrition endangered language, illegal mining, sacred grove); learn about the rights of Scheduled Tribes such as the Forest Rights Act (FRA); and the United Nations Declaration on the Rights of Indigenous Peoples, Universal Declaration of Human Rights, women's rights, and children's right to education; specify any other issue or news item you want to learn more about (biodiversity, climate change, ecology, economic development, ethnobotany, ethnomedicine, global warming, effective measures to prevent rural poverty, bonded labour, and human trafficking).
For a list of websites included in a single search, click here. To search Indian periodicals, magazines, web portals and other sources safely, click here. To find an Indian PhD thesis on a particular tribal community, region and related issues, click here >>
"Together, we must endeavour to strengthen tribal communities which are the role model in preservation of water, forest and land, and learn from their connection with nature and the surrounding environment for the sake of the entire human race." – journalist and tribal rights activist Dayamani Barla in The Wire >>
Related posts